If you visited the Queens Museum between Oct.8th-30th, 2016 to view Chance Ecologies: Queens at the Community Partnership Gallery, be sure to check out a copy of artist Christopher Lee Kennedy's broadsheet hiway/hiway.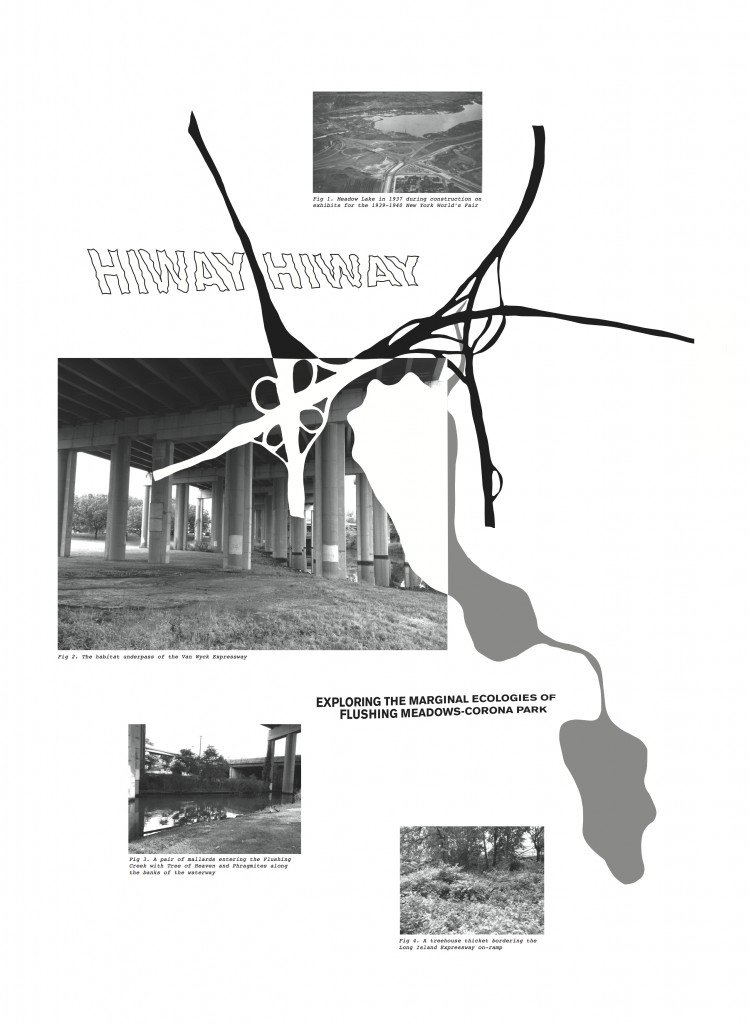 hiway/hiway is a site-specific investigation of the Flushing Creek at the intersection of the Long Island and Van Wyck Expressway in Flushing Meadows-Corona Park. The project explores the value of unmediated weedy landscapes that surround highway interchanges and on-ramps, and considers how transit systems act as habitat, repository, and conveyance for seeds, pollutants, water and multi-species interaction.
As amateur ecologist and artist, Christopher Lee Kennedy conducted 5 field studies in July and August 2016. He was drawn particularly to a site under the tangle of highway infrastructure at the southeast corner of the park, noting a diversity of native, introduced, and so called "invasive" organisms, which seemed to thrive despite unfavorable conditions (eg. salt from snow plows, car exhaust, stormwater runoff etc). As a stark contrast to the maintained spaces in nearby parklands, these "hiway" ecologies unfold as open borders and hybridized ecotones that mirror a trans-global urban commons emblematic of the surrounding neighborhoods of Flushing and Corona, Queens. This broadsheet shares research and documentation of this unique site, while speculating on new conceptions of urban wilderness or 'marginal nature'.